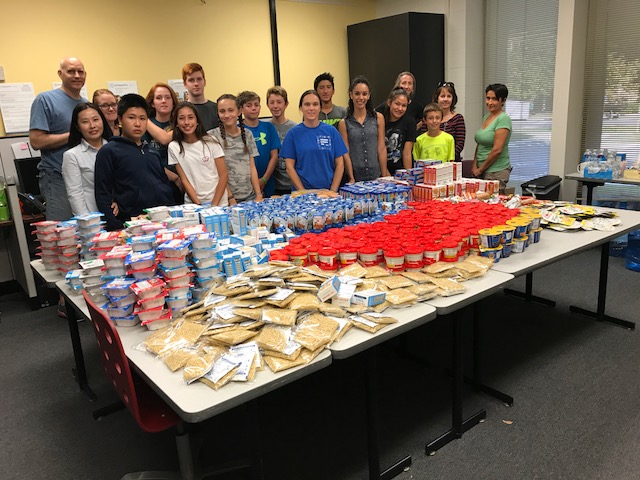 Did you know? In wealthy Fairfax County, approximately 52,000 Fairfax County Public School (FCPS) children qualify for free or reduced-price meals – about one quarter of the school population.

Our Food4Thought Program partners with social workers and parent volunteers at select Fairfax County Public Schools to provide technical assistance and support for them to send home food for the weekend in the backpacks of children in their schools who receive food assistance at school during the week and may potentially go without food over the weekend.
This project requires that you, your family or the organization you represent will be responsible for providing the food that goes into the packs. Britepaths and/or the schools that need assistance are not able to provide the food for your group to put in the packs. If your organization does not have the funds to purchase these items, a great solution is to ask volunteers who are participating to each donate some of the items that are needed, and plan for the number of packs you can create based on the number of donations you expect to receive from group members. This is a great way for everyone to truly share in the effort to help others, and should help ensure that no one is asked to spend too much money.
Community members can help us assist children in our partner schools in two ways:
Donate Funds/Food: Support our Food4Thought Partner Schools by donating funds that we will pass on to them or making food donations.

Create and Donate Packs: Purchase or collect the necessary food and assemble Food4Thought packs for kids, and we will help your organization get the packs to the school you want to assist, or to the school where the greatest need is. If your organization is interested in donating food and assembling Food4Thought packs, here is some helpful information to consider before you get started.
Creating Food4Thought Packs
First Steps:
Contact the School You Would Like to Donate to: CLICK HERE for a list of our Partner Schools and Contact Information. Please cc Christina Garris, Programs Director, at cgarris@britepaths.org on your email.
Volunteer and Donation Report: Christina Garris will provide you with a report so Britepaths can obtain volunteer hours and donation value. Britepaths will provide a thank you to use for tax purposes.
Asking your group for donations for your project? Britepaths has a Sign Up Genius template we can share. VIEW it here. If you have an account on www.signupgenius.com, we can transfer a copy of the Sign Up to you to use for your project. Email Heather Webb at hwebb@britepaths.org and be sure to provide the email address that the sign up will be transferred to.
Questions? If you have questions, contact Christina Garris, Programs Director, at cgarris@britepaths.org or 703-273-8829, ext. 444.
Getting Started
You should plan for each pack you assemble to contain 10 items that will help kids have breakfast, lunch, dinner, a drink and a snack for Saturday and Sunday.
All items that are donated or purchased for this project should be non-perishable, individual-sized food items that have not passed their expiration date (see suggested items below). Consider that some of the kids who will receive this food may be on their own during the weekend while their parents work, so it is very helpful to give them pop-top, ready-to-heat-and-eat containers.
The most expensive items that are hardest to get donated are the most vital ones: shelf-stable milk, Chef Boyardee or Hormel meals in the individual microwaveable cans with meat, and tuna/chicken & cracker snack packs. These items ensure that the kids get some protein each day, so please plan to include these items in your packs. These meals you are preparing truly may be the only food that the kids have that weekend!
You will also need zip-top bags for the food to be packed in. Gallon-size bags are serviceable, but we recommend the two-gallon/XL size ones for ease of packing and sealing.
What Goes In a Food4Thought Pack?
Food4Thought packs are intended to go in a child's backpack on Friday afternoon before they go home for the weekend. When deciding what items to put in them, please consider that the items need to be small enough so that everything can fit in the backpack, and that the children may need to be able to open and heat the meals by themselves. We also need to keep in mind that this may be the only food a child eats during the weekend. The food should be individually sized, non-perishable and not past the expiration date, and as healthful as possible. Typically the pack includes 10 items that will help kids have breakfast, lunch, dinner, a drink and a snack for Saturday and Sunday. A possible item to include is ramen noodles, but if you can include more protein-rich meal options, those are optimal. Here are some suggested items to go in the packs you assemble:
Chef Boyardee or Hormel individual-sized heat-and-eat meals with meat (i.e. SpaghettiOs)
Individual mac & cheese packs
Tuna or chicken and cracker snack packs (i.e. Bumble Bee or Starkist); consider that the larger meal packs can be large for the packs.
Shelf-stable individual milk packs (i.e. Horizon or Hershey's; Please no Yoo-Hoo)
Juice boxes (100% juice)
Oatmeal packets
Individual-sized cereal packs
Individual fruit cups or apple sauce cups (i.e. Dole, Motts, Del Monte, Musselman's)

A small snack item, such as cracker packs or granola bars